Exotic Sports: Ice Cricket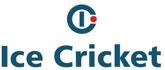 Unbeknownst to the majority of the cricketing world, strange things are afoot in the tiny country of Estonia. Here, for the last three years, the Estonian National Cricket Association has been organizing Ice Cricket Tournaments. Ice Cricket is …hold your breath…Cricket played on Ice!


As bizarre as it sounds, every year from January to March, cricket teams from different parts of the world gather in Tallinn, the capital city of Estonia, to take part in this unique form of cricket. The 'outfield' is the frozen lake Harku or the Baltic Sea. The wicket is painstakingly carved out of ice. Instead of the normal leather ball which would freeze and harden in the minus six degrees temperatures, a composite red plastic ball is used. Also, the red ball is easy to spot in the snow. The boundary is marked off with snowdrift. Teams consist of 6 or 8 players with rolling substitutes so the normal squad number is around 10.

Jason Barry, inventor of Ice Cricket and the national coach of the Estonian cricket team, speaks about his inspiration behind creating this game:

The way that I came up with the idea was that other countries play on matting on the ice, but no one plays ice cricket on a real ice wicket. This creates a whole new dimension, as well as a lot of laughs! This is our third season and we have hosted teams of all abilities, from all over the world...and still they keep coming back for more.


You have to play by the official Ice Cricket rules, some of which are as whacky as the game.

Only one pad, the front pad, needs to be worn.

Fours and Sixers can be scored and local rules dictate that should you hit a moose or a cross country skier an additional 6 runs is scored!

All teams that take part in the first game must toast the wicket by taking a vodka shot.

Sauna and ice plunge pool is available should it be required. Alternatively fires to warm you are also provided.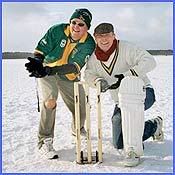 The aim of the tournament is to promote Estonia as a cricket tour destination and to increase the popularity of cricket in Estonia among the local population. But the main objective here is to have fun. Ice Cricket in Tallinn is social cricket at its best. As Jason says:

The best element about Real Ice Cricket is that all standards arrive in the hope of winning the tournament, with grand plans and strategies, only to be beaten by a team of no-hopers...and ironically no one seems to care...because the true winner is the experience, the fun and meeting so many new friends.
A bunch of guys playing cricket on ice, in the cold, in Estonia.
And they say Indians are crazy about cricket.